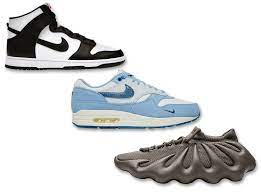 Top Online Sneaker Shops In South Africa
New sneakers are launching each and every year and most of us really do not pay much attention to it. For many of us, shoes are simply just something you slip on your feet every day so you can get out the door to do your daily activities.
But that's just the average joe, am I right? For the fashionistas, stylists and crep-coppers sneakers are more than just something you wear on your feet, it's a statement of who you are.
Sneakerheads, see shoes as a collector's item, a must-have item, an investment, a job, a calling and for many even a way of life. Running in these South African sneakerhead circles costs money but requires you to be sharp when a deal comes round, quick with the cash and know your products.
If you're thinking about improving your collection of kicks in the local market, here are a few stores that will quickly become your favourite website bookmarks when you have cash to drop on a new pair.
So where do sneakerheads buy their shoes in South Africa? Let's find out, shall we!
Disclaimer: This list does not rank brands/outlets in any particular order
1. Jack Lemkus
Jack Lemkus caters to sneaker enthusiasts and is one of the leading retailers in premium sports footwear and apparel in South Africa. Established in 1935, JL started out selling sporting equipment, hobbies, toys and more. In addition, they shipped in brands that were available for the first time in S.A 
Visit them here: https://www.jacklemkus.com/
2. Sneaker Cartel
Sneaker Cartel is a Cape Town-based premium sneaker boutique store catering to sneaker aficionados. They offer a range of collectable sneakers sourced from around the world and bring it into South Africa. 
Visit them here:https://sneaker-cartel-south-africa.myshopify.com/
3. Dipstreet
Dipstreet is another premium sneaker and apparel destination store, but this one is based out of Braamfontein, Johannesburg. Dipstreet kicked off back in October 2013, with the mission to curate the best kicks and apparel fit South African wardrobes. Dipstreet stocks both local and international brands of shoes and clothing. 
Visit them here: https://www.dipstreet.co.za
4. Shelflife
Shelflife is an international online sneaker and streetwear store, offering authentic, premier products which appear on the shelves of their store. Their brick-and-mortar store was established in 2006 and decided to join the online world in 2009. Over the last decade, we've seen Shelflife grow into one of the most recognisable brands in the South African sneaker scene. 
Visit them here: https://www.shelflife.co.za/
5. Superbalist
Superbalist was founded in 2010 and is currently part of the Takealot group. It started as CityMob and in 2013 rebranded due to expansion. Superbalist stocks a range of fashion brands and is prone to curating some great sneakers you won't easily find in South Africa. Oh, and they sell their products exclusively online.
Visit them here: https://superbalist.com
6. Archive
Archive started in 2016 and serves a sneaker-conscious consumer & offers a selection of international brands, with a wide range of best level, limited editions & exclusives. Archive Store SA is part of the Forshini Group of companies and was previously called Anatomy. 
Visit them here: https://www.archivestore.co.za/home
7. Sneaker Spaza
Sneaker Spaza makes selling and buying shoes online in South Africa easier with the newly launched Sneaker Marketplace. The site allows consumers to buy,  sell & trade Authentic Sneakers on the Secondary Market. It's an excellent place for sneakerheads to find rare deals and a place for re-sellers and buyers to connect anonymously.
Visit them here: http://sneakerspaza.co.za/
8. Cop Capital (Permanently closed as of 2018)
Located in Pretoria Cop Capital's flagship store continues to rise with the latest sneakers releases and street wear. They also have an online store so you can have your kicks shipped to you if you cannot make it out to the store.
Visit them here: http://www.copcapital.co.za/
9. Street Fever
Street Fever originated as a family-owned business back in 1974 when the eldest of four brothers opened a men's outfitter in Cape Town.  As the years went by so, the brand developed and along with it The sneaker culture itself of 1989 with the opening of an outlet called the Bronx, one of the first sneaker stores in Cape Town. Street Fever rebranded in 1996 and has not looked back since becoming a stable South African sneaker outlet.
Visit them here: https://www.streetfever.com/
10. Studio 88
Studio 88 has been running since 2001, and since then they've helped keep South Africa up to date with the latest in fashion trends. They stock the latest brands in footwear and clothing, providing our customers with the best deals and best fashion.
Visit them here: https://www.studio-88.co.za/
11. Court Order
Court Order is a sneaker and streetwear consignment store based in Cape Town, South Africa.  You can sell your sneakers online on their marketplace or drop them off in-store. All sales through Court Order have a commission rate of 15%. 
Visit them here: https://courtorder.co.za/
12. Side Step
Side Step is a South African fashion footwear company specialising in providing local customers with the latest fashion footwear from the best brands around the world.
Visit them here: https://www.side-step.co.za/
13. Office London
Office London is now available in South Africa with over 10 stores nationwide as well as online. They are locally part of the Truworths group and launched in SA in 2017. You can pick up a range of limited edition sneakers just like its UK counterpart.
Visit them here: https://www.officelondon.co.za/
14. Subwear
Subwear originally opened its doors In July 1997, in the historic Oriental Plaza in Johannesburg and this where Subwear began its journey of politely changing the game and redefining the meaning of curated fashion. You will be able to pick up a range of branded and designer footwear with Subwear. 
Visit them here: https://www.subwear.co.za
15. Sheha Lifestyle
Shesha is a premium sneaker and apparel retailer that stock a range of exclusive and limited edition footwear, apparel & accessories. Shesha aims to serve the urban consumer in South Africa with premium sportswear products from both leading international & local brands.
Visit them here:https://www.sheshalifestyle.com/
For the sneaker hustlers
If you're looking for those OG sneakers you've always wanted or the "Can't Gets" that have simply eluded you for years you'll need to be a little more creative in your pursuit of those takkies. I would recommend you have a look at what is floating around on the second-hand market or do some networking at expos in your hood, there's always someone willing to part ways with a pair for the right price.
Gumtree
Has become South Africa's favourite online classified site and sneakerheads are taking advantage of advertising their top cops on the site but you'll have to act fast these deals don't come around every day and when they do they're often snapped up quickly. Just one word of warning to the wise, not all that glitters on Gumtree is gold so beware of imitation and be sure of the authenticity before you pull out your stacks.
Sneaker exchange
The Sneaker Exchange is an event where one can buy, sell and trade sneakers, as well as get exposed to South African street culture. Anything goes at the Sneaker Exchange you can sell, buy and even trade for your favourite sneakers, make friends, make deals but most of all have fun.
The Sneaker Exchange hops between Cape Town and Johannesburg so watch out for the various dates and mark it on your calendar.
Bonus tip! Keep your kicks on point
If you intend on keeping your prized possessions as fresh as they can be you need to give your sneakers the TLC they so richly deserve. If you love them that much you would really spare no expense, would you? When it comes to the "creme de la creme" of premium shoe cleaning sneakerheads should check out the sneaker lab, they've got a full range of cleaning products to get your prized pairs well scrubbed and ready to go, that's right no more scrubbing Jays with a toothbrush, Drake!
Visit them here: https://sa.sneakerlab.com/
Get started with nichemarket
Registering your shoe store with niche market is easy, all you will need to do is head over to our sign-up form and follow the instructions. Remember the more information you provide about your business the better chance of users finding you and grabbing their attention. Create your free listing with us, at niche market we're always looking for South African retail stores to join our community.
If you require a more detailed guide on how to create your profile or your listing, then we highly recommend you check out the following articles.
Contact us
Did you like our list? Do you have a store that should be featured on this list? Let us know in the comments or contact us directly and tell us about your amazing find.
Recommended reading
If you have a few minutes to spare and would like to dive deeper down the rabbit hole, we recommend you check out these posts
Tags: sneakers, shoes, shopping, South Africa
Is pixel sneakers legit in South Africa?
pixelsneakers.co.za is a fraudulent online retailer that will take your money and never deliver or communicate with you.